In this tutorial we are hope to cover all possible online methods to get unc0ver jailbreak on your iPhone / iPad running on iOS 11 – iOS 13.5.
Get unc0ver with Gbox app – no computer method
First of all you need to delete old revoked/crashed unc0ver jailbreak app.
Step 1 –
Download UDIDMasters revoke fixed special configuration file
Step 2 –
Clear safari History and website data
Tap the Settings app from your home screen of your iPhone iOS 13.
Now tap the "Clear History and Website Data in your section after one that is under headline of Privacy and Security.
Choose which safari iPad history you want to remove in your menu.
Confirm the clear history button by simply tapping your "Clear
History and Data" and that's it. You can now check your web history to see if you still want to remove other things in your history and repeat the steps from the start to delete another data.
Step 3 –
Install TestFlight app on your device.
Download GBox 2.8.3 (Build 283)-6.8 MB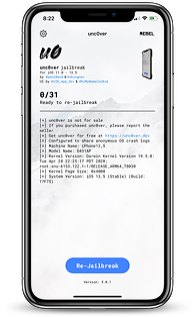 Step 4 –
Download Our Free Certificate to Sign your device.
More info – udidmaster@gmail.com